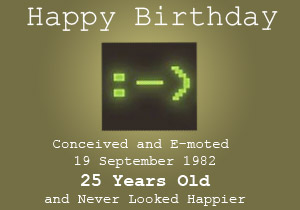 Happy 25th birthday, smiley face emoticon!

A lot of people have asked me about this, so I thought I'd put the information here, linked under my home page:
Yes, I am the inventor of the sideways "smiley face" (sometimes called an "emoticon") that is commonly used in E-mail, chat, and newsgroup posts. Or at least I'm one of the inventors.
Fahlman, the author of the above quote and web page, may not have been the first to ever use the now-well-known emoticon, but there seems to be no evidence of anyone doing so before he proposed the iconic characters. For even more details, read more of the history of the smiley, which includes links to even more history.
[tags]Happy Birthday emoticon, Iconic smile, Online community[/tags]