On the eve of this day 39 years ago, Martin Luther King, Jr. was assassinated while standing on his balcony outside room 306 of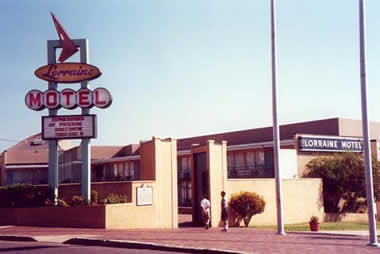 the Lorraine Motel in Memphis, TN. King was shot at 6:01 PM and pronounced dead at 7:05 PM at St. Joseph's Hospital.
Martin Luther King, Jr., (January 15, 1929-April 4, 1968) was born Michael Luther King, Jr., but later had his name changed to Martin. His grandfather began the family's long tenure as pastors of the Ebenezer Baptist Church in Atlanta, serving from 1914 to 1931; his father has served from then until the present, and from 1960 until his death Martin Luther acted as co-pastor. Martin Luther attended segregated public schools in Georgia, graduating from high school at the age of fifteen; he received the B. A. degree in 1948 from Morehouse College, a distinguished Negro institution of Atlanta from which both his father and grandfather had graduated. After three years of theological study at Crozer Theological Seminary in Pennsylvania where he was elected president of a predominantly white senior class, he was awarded the B.D. in 1951.
And information from the Wikipedia article:
Friends inside the motel room heard the shots and ran to the balcony to find King shot in the throat. He was pronounced dead at St. Joseph's Hospital at 7:05 p.m. The assassination led to a nationwide wave of riots in more than 60 cities.[18] Five days later, President Lyndon B. Johnson declared a national day of mourning for the lost civil rights leader. A crowd of 300,000 attended his funeral that same day. Vice-President Hubert Humphrey attended on behalf of Lyndon B. Johnson, who was meeting with several advisors and cabinet officers on the Vietnam War in Camp David (there were fears Johnson might be hit with protests and abuses over the war if he attended). At his widow's request, King eulogized himself: at the funeral his last sermon at Ebenezer Baptist Church, a recording of his famous 'Drum Major' sermon, given on February 4, 1968, was played. In that sermon he makes a request that at his funeral no mention of his awards and honors be made, but that it be said that he tried to "feed the hungry", "clothe the naked", "be right on the [Vietnam] war question", and "love and serve humanity".



[tags]Today in History – Martin Luther King assassinated, MLK assassination[/tags]