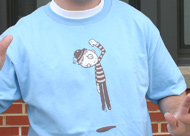 A morning news item of interest to few in the US, and probably about someone most don't even know. Sadly, Marcel Marceau, the great mime (and tangential contributor to coulrophobia in the world), has passed away yesterday at the age of 84.
Marcel Marceau, who revived the art of mime and brought poetry to silence, has died, French media reported Sunday. He was 84.

France-Info radio and LCI television said the family had announced the death of Marceau. No other details were released.
To learn more about Marceau, consider buying his CD Marcel Marceau speaks, which oddly enough is not just a 60 minute selection of silence with periodic interruptions of applause. If the audio method of insight doesn't catch your fancy, you could also check Bip in a Book to see more of Marceau's work in printed form.
[tags]RIP, Marcel Marceau, Mime[/tags]