The Modern Mechanix blog shows us that way back in 1924, the June issue of Popular Mechanics ran this article on using a fan attachment to make a hair dryer as an alternative to electric fans for keeping your lovely locks dry and full of life (to borrow the modern parlance).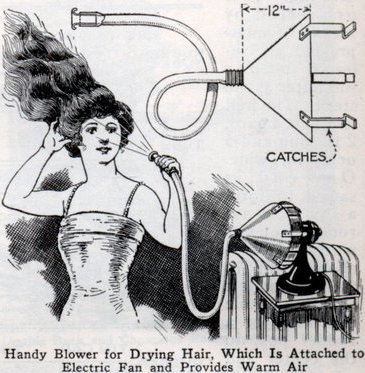 Drying the hair with an electric drier is a quick and convenient method, but not every one cares to buy one for such occasional use. Where some other electrical appliances such as a fan is at hand, an attachment can easily be made for it, that will serve the purpose.

The attachment consists essentially of a cone-shaped piece of sheet metal such as brass, to which a rubber tube with a nozzle is attached, as shown. The cone is made by cutting a circular piece about one-third larger in diameter than the fan guard, making a radial cut from the center to the edge, putting the edges thus formed over each other and riveting them together. Three catches made of brass are riveted to the cone so that it can be securely fastened to the guard. The tip of the cone is cut open and flared out so that a brass sleeve, about 1-3/4 in. diameter, can be soldered to it. A 6-ft. length of rubber tubing of the same size is attached to this sleeve, and a 4-in. length of brass tubing, with the end rounded as shown, is pushed into the end of the hose to serve as a nozzle. In one case a 1-3/4 in. motorcycle inner tube was used for the hose, but it may be still handier to use the rubber tubing usually provided with a fully equipped vacuum cleaner. The drier should be placed on or near the top of a radiator so that it delivers hot air.
Any rumors you hear that suggest I know from experience that attaching this to the rear of the fan instead of the front creates insufficient suction for true enjoyment are pure fluffery. I assure you I never commented on how poorly this worked when I experimented with the idea.
[tags]Modern Mechanix, Last century hacks, Fan as hair dryer, Popular Mechanics[/tags]