Let's pretend for a minute that Apple successfully defends the iPhone name from Cisco's claim of ownership. Instead, focus on the features and benefits of the phone.

With a 2 year contract, the iPhone basic runs $499, which gets you a 4 gig iPod+phone combo. For $599, you get an 8 gig iPod+phone combo. Of course, that's not all the features of the phone:
Sweet, glorious specs of the 11.6 millimeter device (that's frickin' thin, by the way) include a 3.5-inch 480 x 320 touchscreen display with multi-touch support and a proximity sensor to turn off the screen when it's close to your face, 2 megapixel cam, 4GB or 8 GB of storage, Bluetooth 2.0 with EDR and A2DP, WiFi that automatically engages when in range, and quad-band GSM radio with EDGE. Perhaps most amazingly, though, it somehow runs OS X with support for Widgets, Google Maps, and Safari, and iTunes (of course) with CoverFlow out of the gate. A partnership with Yahoo will allow all iPhone customers to hook up with free push IMAP email. Apple quotes 5 hours of battery life for talk or video, with a full 16 hours in music mode — no word on standby time yet.
What I'm wondering on this, though, is why get a phone with all those features if it is going to cost that much? I'll admit that I'm probably not the target demographic for this whiz-bang gadget. I like to get single task gadgets for the most part – I want a phone that is just a phone, a camera that is just a camera, and an MP3 player that is just an MP3 player. For a geeky, dorky, gadget-whore like me, that probably sounds bizarre, but I want functionality at reasonable prices. What happens if next year you want to carry around more music? What if you decide you really want a 6 megapixel camera? Sure, you can choose to carry around those in addition to the iPhone, but why would you given what you've spent on the multi-function phone?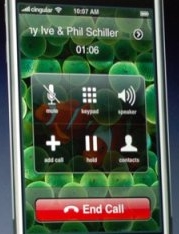 I honestly don't get this aspect of consumer behavior. Buy the device that meets your needs for the task, rather than a device that kinda, sorta, maybe comes close to meeting the needs for a bunch of different tasks, just because it means less to carry and a small price savings. Because when you really just have to get the device to meet a specific need, you'll still have the money invested in the kinda, sorta, maybe device, and you'll probably look back and regret the sub-par performance you got from it on some task you just had to pay for a beter device to meet. Sure, 2 megapixel photos are OK, but when you take the kids to the zoo and they want that picture of the cool kimodo dragon, do you want to settle when you could have a much better photo from a $200 5-megapixel camera?
OK, an 8-gig MP3 player is nice, but dang, that really isn't enough to carry the music you wanted and you find that you really aren't satisfied with that limitation now that you see how little it holds (and let's be honest – there are a lot of folks out there who really do want to carry more than 8-gig of MP3s at once). Well, I guess you can just go buy that 60-gig iPod you were thinking about before buying the iPhone. But you can't sell the old MP3 player like you would when you upgrade a single-function device, since it is also your phone/video-player/camera, plus you are tied in to that 2 year commitment with Cingular. And if you say "But that iPod is now the video-player, so that's different" consider that you are likely stuck with the iPhone as your video-player for any videos you purchased to play on the iPhone. I don't expect customer based portability for these – I'm expecting device restricted access (because DRM sucks and rarely makes things work the way the customer wants it to).
What I'm really getting at here is are there enough people who want an all-in-one to pay that price, or are more people closer to the end of the spectrum I inhabit, willing to only pay for extra functions when those extra functions don't appear to add appreciably to the cost of the device? Will the iPhone hit Jobs' stated 1% of cell-phone sales (10 million iPhones) by the end of 2008?
I'm going to make a prediction based on a market and technology I know nearly nothing about and say right now that while I think the iPhone will sell well and be profitable for Apple, I don't see 10 million phones sold by the end of 2008. While I realize there aren't a lot of people who prefer the single-task, single-device gadget choice that I do, I think more people want better functionality per task than the iPhone gives. Unless Apple improves the camera, offers a higher memory option, and improves the data-transfer speed (set for 2.5G speeds currently), I don't see Apple hitting much better than maybe half their target. Come back in 23 months and see how I do.

[tags]Random iPhone ramblings, iPhone questions and predictions by some dorky guy[/tags]